There is an interesting trend in South Carolina schools. During the months of July, August, and September, juvenile referrals to the Department of Juvenile Justice are typically at their lowest. However, once students get settled in school, the number of referrals spike. Here are two charts illustrating this troubling trend for the last two full years, 2017 and 2018: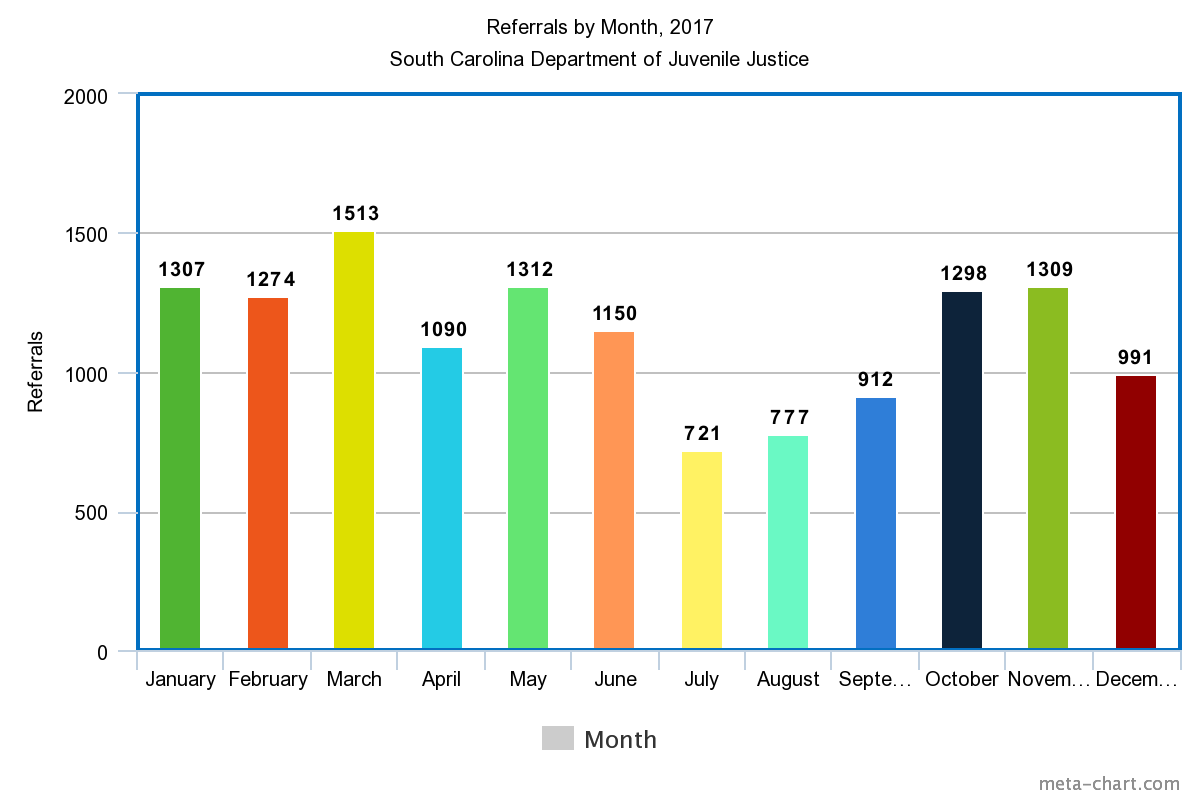 In South Carolina, school funding is allocated based upon student membership on the 45th and 135th day of each school year. Increased juvenile referrals often correlate with increased exclusionary discipline, particularly transfers and expulsions. Expulsions increase dramatically after the 45th day student membership count which leads to this question: are students being counted and subsequently dismissed once funding is secured by school districts?
Exclusionary Discipline, Pushout, and The School-To-Prison Pipeline
To understand how this happens, two concepts are important: exclusionary discipline and pushout. Exclusionary discipline is any type of school disciplinary action that removes or excludes a student from their usual educational setting. Exclusionary discipline includes suspensions, transfers to alternative schools, and expulsions. Pushout is the informal ways schools encourage students to drop out or not come to school due to excessive exclusionary discipline, stigmatic treatment or inappropriate interactions with school faculty and staff including school resource officers. When students are excessively suspended, expelled, arrested or otherwise excluded from their school peers, they often fail to see the value in graduating, and are more likely to drop out. Exclusionary discipline and pushout together contribute to the school-to-prison pipeline.
Students facing exclusionary discipline often face correlating charges that many would consider routine discipline matters. For example, it is not uncommon for a student to be charged with assault and battery for a school yard fight. In that situation, not only is a child subject to a lengthy suspension, transfer to an alternative program or expulsion, they are often referred to Family Court for additional consequences. This common practice of dual punishment directly perpetuates the school-to-prison pipeline and vastly increases the chances of a child dropping out or being pushed out by school and district personnel.
Exclusionary discipline causes more problems than solutions, and the dire consequences aren't felt equally among all races. Black students are disproportionately represented in the South Carolina discipline and punishment systems. Black Students make up approximately 35 percent of the SC student enrollment but represent 53 percent of in-school suspensions (ISS), 59 percent out-of-school suspension (OSS), and 59 percent of expulsions. Black youth also account for 55 percent of all juvenile referrals in the state.
The social, economic, and legal problems that affect students and their responses to school authority do not stop at the gates of the school yard. Unfortunately, many schools and district personnel, including school resource officers, lack training to deal with troubled youth in ways that would meaningfully contribute to their success. By having an inadequate school discipline system that excludes and isolates students while doing little to prevent future behavioral problems, South Carolina continues to inadvertently bolster the school-to-prison pipeline instead of working to dismantle it.
Project SCHOOL
South Carolina Appleseed is leading efforts to address this problematic system and protect some of the most vulnerable students in this state. Our Equal Justice Works Fellow Lashawnda Woods-Roberts leads Project SCHOOL (Serving Children and Helping Others Optimize Learning), which provides direct representation for discipline and special education matters to low-income, justice-involved children in Lexington County school districts. Project SCHOOL works to preserve the educational rights of justice-involved children and students at risk of court-involvement through policy advocacy, direct representation, legal education, and legal training.
Through Project SCHOOL, South Carolina Appleseed is disrupting the school-to-prison pipeline. By providing justice-involved students with direct representation during exclusionary discipline hearings and for special education matters, Project SCHOOL improves their chances of staying enrolled in school, reducing the risk of excessive exclusionary discipline. By developing educational training sessions, family workshops and other resources, Project SCHOOL provides valuable information outlining how to challenge unfair treatment and unlawful placement.
Several other attorneys throughout the state have partnered with South Carolina Appleseed to provide legal representation for exclusionary discipline hearings and special education matters for low-income families at low or no cost. By training these and other attorneys to serve as advocates for justice-involved youth facing exclusionary punishment, Project SCHOOL multiplies its impact across the state by increasing legal access and support for these vulnerable students.
Though there's still lots of work ahead to dismantle the school-to-prison pipeline, Project SCHOOL and South Carolina Appleseed are committed in this fight for educational access for all.